Brad Zak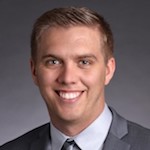 Big East Conference, Senior Director, Social and Digital Content
Brad Zak joined the Big East Conference in 2014 shortly after the reconfiguration of the league to help shape the digital and social strategy moving forward.
Recently named senior director of digital and social content, Zak oversees the development of the conference's social platforms, the formation and growth of the Big East Digital Network, and all other aspects of social and digital video production for the league.
In August 2017, Zak directed the launch of BIG EAST Shootaround, a weekly, digital show focused on the conference's men's basketball product. Airing weekly and around marquee events, the show peaked with over 350,000 total viewers during the league's 2018 March Madness run-of-shows.
Zak has spearheaded and managed the digital content team at the BIG EAST Conference. In developing the creative direction and content execution plans, Zak and the digital team are tasked with growing the conference's brand through social media, video production, digital media, and graphic design.
Zak arrived at the Big East Conference after time as a production assistant for ESPN and two years as an Athletic Communications graduate assistant at St. John's. From 2011-2013, he was the primary media contact for the Division I lacrosse, cross country, and track & field programs at St. John's, while also serving as a secondary contact for the men's and women's basketball programs. While at St. John's, he was part of the communications department's efforts to grow SJU-TV and begin production for ESPN broadcasts.
Zak graduated from Boston College in 2011 with a bachelor's degree in finance and communications. He completed his M.P.S. degree in sports management at St. John's in 2013.
Featured in: SVG Digital (Monday)