Chris Halton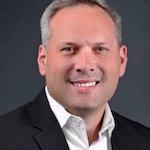 NBA, SVP, Media Technology and Operations
Chris Halton serves as SVP of media technology and operations at the NBA, where he is responsible for leading technical strategies for the league's content creation, media acquisition, distribution, and archiving platforms.
Since joining the NBA in April 2014, Halton has implemented new digital and broadcast technologies for NBA courtside stats capture and League Pass linear video and VOD distribution. These include the NBA's Game Distribution Center, creating continuous multi-angle live game feed production for digital and broadcast licensees, and NBA Content Network, which is a cloud based B2B portal for NBA licensees to search and download finished product, directly from the NBA via self-service API's.
Halton played a key role in the creation of the NBA Replay Center, which debuted in the 2014-15 season, overseeing all software development for the application. Lastly, Halton was instrumental in the introduction of NBA's co-located IP multicast linear distribution facilities now distributing NBA League Pass live games, globally.
Before joining the NBA, Halton spent eight years as VP of technology for CNBC. He oversaw software development, infrastructure, and technical operations for CNBC.com; mobile and on-air platforms, including CNBC's global market data ticker plant; real-time on-air graphic systems; and supporting self-service newsroom publishing tools.
Halton began his professional career in 1995 as a design engineer with Sandvik Coromant in Fair Lawn, NJ.  He was promoted to technical lead in 1998, responsible for the build-out and management of the company's e-commerce web offerings.
Halton graduated from Kean University in 1994 with a bachelor's degree in engineering and design.
Featured in: Venue Production Workshop (Monday)