Dennis Cleary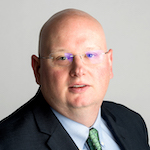 ESPN, Director, Remote Production Operations
Dennis Cleary, an ESPN veteran of more than 20 years, serves as a director of remote production operations. He is responsible for overseeing and driving the day-to-day remote operations, personnel, and technical management for a wide range of sports and special events. These include boxing; the Little League World Series; soccer; tennis including the Australian Open, Wimbledon, and the US Open – ESPN's largest annual event due to its role as host broadcaster; the National Spelling Bee; and more. While at ESPN, Cleary has been nominated for multiple Sports Emmy Awards.
Cleary also managed the Special Olympics, including the Los Angeles Games in 2015, Austria in 2017, Seattle in 2018, and the upcoming event in Abu Dhabi in 2019.
In addition, Cleary oversees special projects throughout the year and coordinates research and development of new remote technologies with vendors. He was promoted to this position in 2018, having served as associate director since 2014.
Cleary joined ESPN in 1997 as a studio technician in production operations. In 2001, he joined remote production operations as an operations coordinator and has advanced steadily through a series of promotions. In 2004, he was named senior operations coordinator and later in the year was promoted to operations producer. He rose to senior operations producer in 2008 and to manager in 2010.
Cleary oversaw college basketball for 10 years from 2001-2011 and motorsports from 2011-2018 (NASCAR, IndyCar, NHRA and Global RallyCross), including the Indy 500, one of ESPN's largest events with more than 100 cameras for the final six of those years. He also managed ESPN's coverage at the MLB All-Star Game from 2003-2007 and the NCAA College World Series from 2008-2011.
Cleary graduated from Quinnipiac University in 1999 with a degree in mass communications.
Featured in: Tuesday General Sessions: State of the Industry