Erik Weaver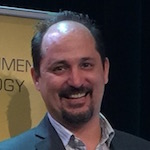 Western Digital, Global Director, M&E Market Development
Erik Weaver is a specialist focused on the intersection of cloud and the media and entertainment industry, currently running strategy for Western Digital, one of the world's largest storage companies in the world. Addressing the ever-changing and evolving media landscape, he brings deep insights for every stage of the workflow – from object storage and all-flash arrays to hybrid cloud storage solutions and archive.
Prior to this, Weaver's experience includes "Production in the Cloud" for the Entertainment Technology Center (ETC) at the University of Southern California, the world-renowned school of Cinematic Arts. This organization is a global project that unites senior leaders from major studios to develop next-generation cloud standards to support global studios of all shapes, sizes, and types, as well as major cloud vendors, to produce proof of concepts and deliver more efficient and productive workflows. The group encompasses many aspects of the cloud, including transport, security, metadata, long-term storage, and formation of an agnostic framework that unites key vendors and studios.
Weaver has fostered and achieved many accomplishments in the M&E market including: executive producer of "The Suitcase" CAA People Choice Award (Tribeca 2017) and a project focused on HDR, cloud based workflows, and Live 360. He was executive producer of the "Wonder Buffalo" SXSW Interactivity Competition, in addition to being focused on an HRD first, cloud, and volumetric capture. The project was brought together by volumetric capture, photogrammetry, ambonisic sound, and interactivity.
Weaver was chairman of NAB's Next Generation Media Technologies Conference from 2014-2017, as well as chairman of vNAB from 2015-2017. He is also part of the SMPTE C4 MR30 Standards group, which oversees and helps educate the M&E industry on using C4, semantics, and NoSQL for managing motion picture data. Weaver has spoken at more than 25 M&E conferences and trade shows.
Featured in: Sports Content Management Workshop