Kevin Henneman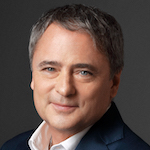 KMH Integration, President
Kevin Henneman founded KMH Audio Video Integration in October of 2005. With an educational foundation in electrical and audio-video engineering, he provides focus and leadership allowing KMH to develop and implement facility plans and technical systems solutions that support the end users' goals both operationally, financially, and with an eye for future technical workflows.
Over a 30-year career, Henneman has worked in the field of post-production editing, as well as live sound and video production helping to bring a practical approach to KMH's consulting, design, and integration efforts.
KMH has strong working relationships with manufacturers and product developers which helped to launch the Media Suite at the main facility in Holbrook, NY. At the Media suite, both customers and KMH engineers and technicians can demonstrate software-based tools for media content management.
Currently, KMH leads a nationwide integration project allowing multiple local content providers and distributors to share and distribute content utilizing off-premise cloud and automation techniques all managed and monitored from a central location.
KMH customers include the Pittsburgh Steelers, ABC, NBC, Viacom, AMC Networks, Vice Media, and Group Nine, as well as the NY Giants, NY Red Bulls, MetLife Stadium, Barclay's Center, and Nassau Coliseum, among many others.
Featured in: Venue Production Workshop (Monday)