Larry Thorpe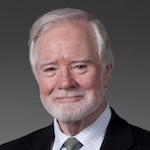 Canon U.S.A., Senior Fellow, Imaging Technologies and Communications Group, Professional Engineering and Solutions Division
Larry Thorpe joined Canon U.S.A. in February 2004. In January 2015, he was awarded the 2014 Engineering Emmy Charles F. Jenkins Award for lifetime achievement by the Academy of Television Arts and Sciences. In October 2015, Thorpe was a recipient of Honorary Membership in the Society of Motion Picture and Television Engineers (SMPTE).
Prior to joining Canon in 2004, Thorpe worked for Sony Broadcast Company. From 1984 to 2003, he was responsible for HDTV market development and from 2001 to 2004, he was senior vice president of content creation systems. Thorpe received the NAB 2000 Television Engineering Achievement Award and the Montreux 2000 Gold Medal Award for Digital Cinematography.
Thorpe also worked for RCA's Broadcast Division from 1966 to 1982, where he developed a range of color television cameras and telecine products. In 1981, he won the David Sarnoff Award for his innovations in automatic studio color cameras. He holds ten patents based upon his work at RCA. From 1961 to 1966, Thorpe worked in the Designs Department of the BBC in London, England.
Thorpe is an IEE Graduate (1961) of the College of Technology in Dublin, Ireland and received his Chartered Engineer (C. Eng.) and MIEE distinction in 1965.
Featured in: Venue Production Workshop (Monday)