Lionel Bentolila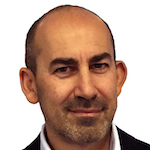 Aldea Solutions, CEO
Lionel Bentolila is a founder of Aldea Solutions and has been its CEO since 2001. Aldea is a leading provider of high-quality, ultra-low latency, and reliable video services and solutions for the television and media industries.
Prior to Aldea, Bentolila held senior management positions in sales, marketing, and engineering at ABL Canada, a provider of broadcast video compression and networking equipment. His technology career began at Nortel Networks research and development labs.
Bentolila holds an engineering degree from Ecole Centrale de Paris in France and studied at McGill University in Montreal, Canada where he completed his M.B.A.
Featured in: SVG Digital (Monday)