Mark Lazarus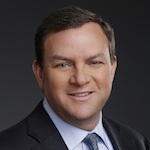 NBC Broadcasting and Sports, Chairman
Mark Lazarus is chairman of NBC Broadcasting and Sports, NBCUniversal. He oversees the NBC Sports Group, which consists of NBC Sports, NBC Olympics, NBCSN, Golf Channel, Olympic Channel, NBC Sports Regional Networks, NBC Sports Radio, NBC Sports Digital, and two transactional sports businesses, GolfNow and SportsEngine. Lazarus also oversees NBC Broadcasting, which includes the NBCUniversal-owned television stations (40 NBC and Telemundo local television stations), affiliate relations and affiliate marketing, as well as network operations and broadcast standards. He reports to Steve Burke, CEO of NBCUniversal.
In 2018, NBC Sports Group presented Super Bowl LII and the 2018 Olympic Winter Games, marking the first time in 26 years the Super Bowl and the Olympics have aired in the same year on the same network. In the 22-day stretch from Super Bowl Sunday through the PyeongChang Olympics Closing Ceremony, more than 233 million Americans tuned in to the networks of NBCUniversal. Super Bowl LII will be the most-watched show of 2018 with an average of 118.2 million viewers across all platforms. The PyeongChang Olympics ranks as the most-dominant Winter Games ever, with NBC's primetime viewership topping by 82% the combined average of ABC, CBS, and FOX.
Upon completion of the 2017-18 TV season, NBC's Sunday Night Football finished as primetime's #1 TV show in all key metrics for an unprecedented seventh consecutive year – breaking a tie with American Idol for the most consecutive years atop the charts (since 1950), based on live plus same day data provided by Nielsen. Sunday Night Football also ranked as the No. 1 show in the advertiser-coveted 18-49 demographic for the eighth consecutive TV season.
Lazarus began his term as chairman of NBC Sports Group in May 2011. He manages partnerships with many of the most prestigious properties in sports, including the International Olympic Committee and United States Olympic Committee, the NFL, NHL, PGA TOUR, The R&A, PGA of America, Premier League, Notre Dame, Churchill Downs, and many more. Lazarus was integral in NBCUniversal's 2014 acquisition of media rights to six Olympic Games, ensuring NBCUniversal is the U.S. home of the Olympics through 2032; its landmark 10-year agreement with NASCAR which began in 2015; its nine-year NFL agreement; and its 10-year agreement with the NHL. In addition, he led the 2016 acquisition of Thursday Night Football, making NBC the only network with two primetime NFL packages.
Prior to being named chairman, Lazarus was responsible for all NBC Sports Group cable assets as president of NBC Sports Cable Group. He served as president of Media and Marketing for CSE prior to his roles at NBC Sports Group, and led the agency's sports and entertainment Media and Marketing divisions.
Lazarus was president of Turner Entertainment Group prior to joining CSE. In this capacity, he oversaw all aspects of Turner Entertainment Networks, which included Turner Sports, TBS, Turner Network Television (TNT), Turner Classic Movies (TCM) and truTV; as well as The Turner Animation, Young Adults & Kids Media unit, including Cartoon Network, Cartoon Network Studios, Adult Swim, and Boomerang. Previously, he served as president of Turner Sports from 1999 to 2003.
A graduate of Vanderbilt University, Lazarus is on the Board of Governors of the Boys and Girls Clubs of America and serves on the Board of Directors for the East Lake Foundation.

Featured in: Tuesday General Sessions: State of the Industry