Marlon Jackson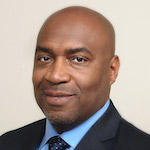 Madison Square Garden, VP, Marketing
Marlon Jackson oversees marketing at MSG Networks, an industry leader in sports production and award-winning regional sports and entertainment network. Jackson directs and implements strategic marketing plans and executes key brand integration programs across the network. He coordinates program and promotional activities with key partners including the New York Knicks, New York Rangers, New York Islanders, and New Jersey Devils, to drive ratings, fan and social media engagement, and elevate brand awareness.
Prior to MSG Networks, Jackson oversaw the day-to-day operations and management of CNBC's digital platform while supporting its primetime entertainment brand, CNBC Prime. Jackson was responsible for content development, functionality, and creative of primetime's digital presence. He led the creation of original short form video content, including branded and custom-sponsored content while leveraging emerging technologies.
Prior to CNBC, Jackson was the vice president of digital content at Syfy and Chiller (NBCUniversal). He oversaw strategy and content development for the networks' supporting websites, emerging platforms, linear programming, and game expansion initiatives. Jackson oversaw creative and editorial while expanding network brand objectives. He also developed long-term tactical plans for digital revenue growth with new business strategies and advertiser campaigns.
Featured in: SVG Digital (Monday)