Michael Allen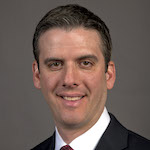 NBA, SVP, Digital Product Management
As SVP of digital product management, Michael Allen is responsible for the development and operations of the NBA's digital portfolio across multiple media platforms. He oversees product development and operations for the league's international digital products, including NBA League Pass International – the league's full-season, live-game subscription service available to fans in more than 200 countries and territories on computers, tablets, and mobile and connected devices.
Allen also works closely with NBA Digital on the day-to-day operations of all the league's domestic digital assets, including NBA TV, NBA.com, NBA League Pass, NBA League Pass Broadband, the NBA App, NBA.com, WNBA.com, and GLeague.com. In addition, he oversees digital development, operations, and content management for all 30 NBA teams.
This past year, Allen's expertise helped lead to all 30 NBA teams launching skills for Amazon Alexa for the start of the 2017-18 regular season. The NBA became the first professional sports league with every team on Amazon's Alexa, allowing fans to instantly obtain schedules, scores, stats, standings, and news about their favorite NBA teams.
Through his leadership, the league also created the NBA AR App, enabling fans to play virtual pop-a-shot from any point in the world through augmented reality (AR) technology. This marked the first AR game launched by a U.S. sports league. In addition, the NBA AR App provides 360-degree AR portals that allow fans to step on the court and go behind the scenes at the league's marquee events, including the Playoffs and Finals.
During his 15-year career at the NBA, Allen has been instrumental in many groundbreaking digital initiatives, including the launch of live streaming games on NBA.com, the launch of the league's 19 international websites, NBA All-Star voting on multiple platforms, the first NBA mobile application, and the league's debut of Twitter and Facebook destinations. In 2015, Allen was honored by the SportsBusiness Journal with a "Forty Under 40" Award.
Prior to rejoining the NBA in 2006 as director of digital products, Allen worked for MTV Networks, where he managed digital products for the VH1 brand, overseeing numerous online, gaming, and mobile launches. Allen began his career with the NBA in 1999 as a department assistant, where he was responsible for tracking and analyzing website traffic and trends for both the league and individual team websites. Allen began his career in sports working in the marketing department for both the New York Knicks and New York Liberty.
Allen graduated from Franklin & Marshall College with a bachelor's degree in history. He resides in Ramsey, NJ, with his wife Alyson and their son James and daughter Isabelle.
Featured in: Tuesday General Sessions: State of the Industry