Mike Levy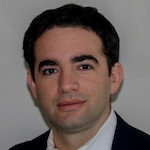 FloSports, VP, Global Rights Acquisition
Mike Levy helps lead global rights acquisition for FloSports, an innovator in live digital sports and original content. This year alone, Levy and his team have closed more than 150 new rights deals around the world, including the Professional Bowling Association (PBA), The Rugby Channel, EuroLeague Basketball, and more.
Levy ascended into this role after serving as the VP of multimedia sales at FloSports for three and a half years. He was responsible for driving national sales from Los Angeles to New York City. In 2017 alone, he drove a year-over-year revenue growth of more than 60 percent as he led FloSports' strategy to grow beyond endemic sports brands and into non-endemic sports markets.
Prior to joining FloSports, Levy spent more than two years handling media sales and partnership development for Crackle and Sony PlayStation. Before that, he spent the previous seven and a half years working as an account executive for ESPN in national advertising sales.
A graduate of Dartmouth College, where he captained the baseball team as a senior catcher, Levy was drafted by the St. Louis Cardinals and played one year of minor league baseball, backing up current MLB All-Star Yadier Molina. He later earned his M.B.A. from Northwestern's Kellogg School of Management.
Featured in: SVG Digital (Monday)