Nick Garvin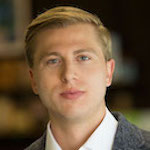 Mobile TV Group, Chief Operating Officer
Nick Garvin is the chief operating officer for Mobile TV Group (MTVG). This includes all strategic partnerships, management of all day-to-day operations for its mobile unit fleet covering over 4,000 live events annually, and its audio/video manufacturing facility called Colorado Studios. MTVG has led live 4K HDR productions in the U.S. covering the PGA Tour, NBA, NHL, UFC, college football, entertainment, and corporate events for many of the top Fortune 500 companies.
Garvin is also the founder of Stackup, an education technology company that uses artificial intelligence to deliver metrics on students reading and learning on the web to K-12 school districts around the United States. Stackup is among few certified Google partners, and his work on this technology put him into the Forbes 30 under 30 class of 2018.
Garvin holds a Bachelor of Science in business administration from the Eller College of Management, along with an executive education from the Wharton School of the University of Pennsylvania.
Featured in: Monday General Sessions: Remote Production Technology