Scott Griffin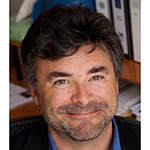 Diversified, SVP Engineering
Scott Griffin began his career as a summer freelance front-of-house sound engineer, lighting master electrician, and video grip at various Long Island and NYC venues during his four years of study at Penn State University towards a B.S. in electrical engineering. While at Penn State, Griffin worked with the Center for Performing Arts and University Concert Committee on numerous live shows as A1, LD, and EIC on various productions. Upon graduation from Penn State, Griffin joined the engineering staff at broadcast systems integrator AF Associates, serving as support and lead systems engineer on projects for USA Networks, MSG Network, NPR, and NBC. In 1993, Griffin left AFA to form The Systems Group in Hoboken, NJ and led the team there that served the broadcast, live venue, post- production, and mobile markets for 20 years. In 2016, TSG was acquired by Diversified and Griffin has been leading a studio of engineers focused on facility planning, project budgeting, and system design consulting for the Media and Entertainment Division as SVP of engineering.
Since the beginning of his tenure at AFA, Griffin's extensive 30-year career has been focused on the conceptualization and implementation of advanced technology solutions for facility and event integration problems. Griffin regularly works with clients on the operational, budgetary, and architectural planning of their media operations. He has led or held key roles on implementation teams for some of the largest and most complex facility projects of the past 25 years. Throughout his career, Griffin has been responsible for project direction, systems engineering, facility infrastructure planning, and workflow definition for a variety of clients in industry sectors as varied as network television, cable news, academic institutions, sports and entertainment venues, mobile event production, film/video/audio post-production, disaster recovery, digital media, and corporate communications.
Griffin works in close concert with his engineering team, sharing with them his wealth of engineering and project planning experience. He is a member of SMPTE, AES, and IEEE. Recent project engagements include planning, design, and budgeting efforts for WOSU TV & Radio, Peloton, Penn State University, Major League Baseball, CBS Network, MSG Ventures, Univision Network, and The New York Times. Significant project portfolio highlights includes design and planning of facilities for NBA Entertainment, World Wrestling Entertainment, MLB Network, NFL Films, NBC Sports, MSG Media, United States Golf Association, and Univision Deportes.
Featured in: Venue Production Workshop