Tim Tubito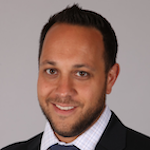 New York Knicks, Director, Game/Event Presentation
Tim Tubito is an Emmy award winning producer and director with over 15 years of production and game/event presentation experience. Tubito spent 12 years with the New York Jets in several different roles including overseeing football video operations, sponsored/marketing content, Jets broadcast/digital/social content, virtual/augmented reality, and experiential production.
Tubito played a key role in the design of the AV infrastructure for the new Jets Training Facility in Floraham Park, including production spaces, smart classrooms, and the team auditorium.
Now in his first season at Madison Square Garden, Tubito oversees and directs games/events for the New York Knicks. In his new role, he is in charge of game scripting, as well as managing all on-court activity, music, arena lighting, entertainment coordination, game night staff, public address announcers, and partner/marketing integration.
Featured in: Venue Production Workshop (Monday)