Xena Ugrinsky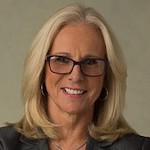 Genre-X Consulting, Partner, Applied Data Science
Xena Ugrinsky specializes in all aspects of data science adoption. She works with clients to establish the organizational strategy to accelerate business solutions through advanced analytics. Ugrinsky frequently speaks on topics related to the application of advanced analytics to systems modernization and business transformation. She provides strategy and client advisory related to applying data science to solving business issues for finance, operations, sales, and marketing.
Ugrinsky currently engages directly in client initiatives to solve systems modernization challenges to drive broader value across the overall technology portfolio, and help clients link their data science strategy and activity to those initiatives, with specific focus on optimization based upon empirical data. Her areas of expertise include: advanced analytics and applied data science – strategy, staffing, and execution; technology portfolio rationalization; technology selection; product strategy; and cloud adoption.
Prior to founding Genre-X, Ugrinsky was a SVP in the Civil Commercial Group at Booz Allen Hamilton. In that role, she was part of the leadership team that led Booz Allen's efforts defining a commercial strategy that translated offerings and services provided in the federal and civil markets to the commercial market.
Prior to joining Booz Allen Hamilton, Ugrinsky was a partner at KPMG's U.S. Advisory practice. She served as the global CTO for the Enterprise Performance Management and Analytics practice and was part of a firm-wide foundational innovation initiative around data and analytics/big data.
Ugrinsky is currently authoring a book, Enterprise AI – Field Guide to the New Business Normal, which discusses enterprise AI adoption, implications for the c-suite operating model, and the re-skilling of the workforce necessary. The book covers the overall challenges for organizations as they attempt to embed a data driven approach at the enterprise level. More succinctly, it seeks to answer the question – What will define the winners in the "big data race to competitive advantage"?
Ugrinsky has an M.B.A. in information systems in data from New York University's Stern School of Business and a Bachelors of Arts in finance from Hofstra University. She is a certified data scientist from Data Science Central, a Hackett-Certified advisor, and working on completion towards becoming a certified data scientist from Johns Hopkins University (est. 2016-2018). She is also a board member of Graham's Foundation, a non-profit serving the needs of parents of premature infants.
Featured in: Sports Content Management Workshop (Monday)