Brendan Cline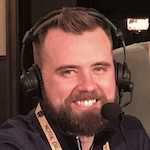 BeckTV, Director of Engineering
Brendan Cline currently serves as the director of engineering for BeckTV. He is the primary client contact throughout all of his projects, a role that includes consulting and coordinating with the project team on facility design and extends to overseeing broadcast system design, project management, equipment specification, documentation, on-site supervision, and commissioning.
Cline began his engineering work in broadcast television 12 years ago when he was hired by a local TV station in need of an engineer to build a new, automated HD master control. Two years later, he moved that station across town into a new building. The desire to continue his involvement in the design and install of broadcast projects propelled Cline to leave his hometown and take a job with a systems integration company as an engineer in the Washington, D.C. area. While in the nation's capital, he became a lead engineer on numerous builds including stadiums, broadcast facilities, and corporate AV operation centers.
Cline joined BeckTV a little more than four years ago and has overseen multiple TV and sports projects from initial design to completion. This includes two, new TV station facility moves in Anchorage and Seattle, a professional baseball ballpark, and the campus IP-centric production center at The University of Notre Dame in South Bend, IN. Cline is currently implementing another fully IP-centric system for the NBC News Bureau in Washington, D.C.
Featured in: Venue Production Workshop (Monday)